After being kicked off the football team at Palomar College for punching one of his coaches, Dempsey was brought into the N.F.L. by Vince Lombardi and the Green Bay Packers in the hopes of turning him into a kicker/offensive lineman in the mold of Lou Groza. But for the first time in his football life, Dempsey was heavily outmatched physically by the famed monsters on the Packers' defensive line.
"I got beat up pretty bad every day in practice," said Dempsey, who never played a game in a Packers uniform. It was then, he says, that he decided, after a stint playing for a semipro team in Massachusetts, that he wanted to focus exclusively on being a kicker.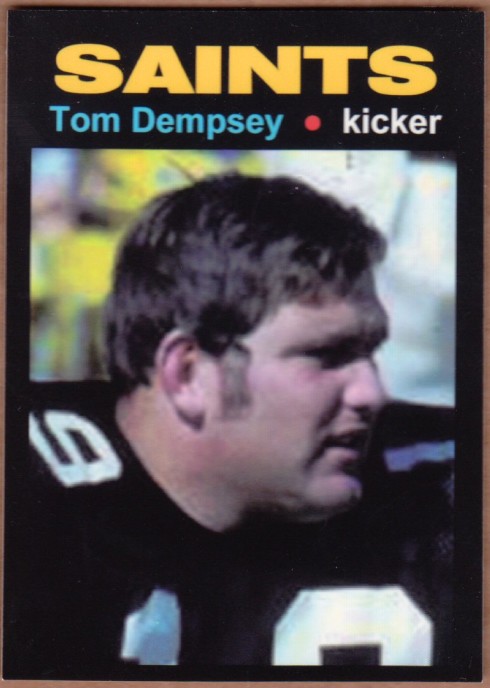 Dempsey joined the New Orleans Saints in 1969—a year before he made history. Going into the final seconds of the game, the Saints trailed the Lions 17–16 that momentous day.
He says it was cool that day but also humid. Says he didn't sleep at the team hotel the night before because, for the first time all year, there was no team hotel: The Saints were 1-5-1 and had fired coach Tom Fears the week before, so this was J.D. Roberts' first game. Unlike his predecessor, Roberts let players sleep at home before home games.
The Saints trailed the Detroit Lions 17-16. With 11 seconds left to play, the Lions seemed to have ensured victory when Errol Mann kicked an 18-yard field goal. But after the ensuing kickoff, Saints quarterback Billy Kilmer connected with receiver Al Dodd for a 17-yard connection to the sideline. That play stopped the clock with two seconds left to play.
"I had called timeout, and I asked our offensive coordinator Don Heinrich, 'Have we got anything set for this?'" Roberts recalled. "He said, 'Not really. We could go trips and throw it up for grabs.' Dempsey was standing there with us, and he said 'I can kick it.'
"If I'd known it was 63 yards, I might have messed it up," he says.
Said Roberts of Dempsey, who entered the game having converted just 5 of 15 field goal attempts: "He had the leg. He could kick it a long way. It was just a matter of where it was going."
Dempsey didn't learn it was a record until after the game, when a TV reporter told him that he'd bested the previous mark by 7 yards (56 yards by Baltimore Colts kicker Bert Rechichar in 1953).
That night, he and some teammates went to Dempsey's favorite bar, the Old Absinthe House on Bourbon Street, and downed Dixie beer until 7 a.m.
"We stayed out all night," he says. "Pretty typical."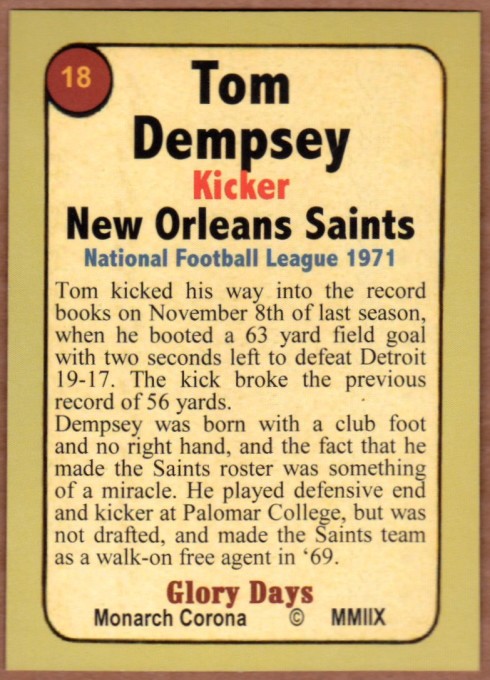 The record Dempsey set more than 42 years ago has since been equaled by three others (Jason Elam, Sebastian Janikowski and David Akers) but has stubbornly gone unsurpassed, a rather remarkable feat given the advanced, year-round training and conditioning programs modern N.F.L. players almost universally participate in.
Dempsey typically spent his off-seasons at home in Southern California working as a bricklayer and as wrestler on the local professional wrestling circuit.
Tom accomplished a lot for a guy who was missing a large part of his kicking foot, due to a birth defect. Here is the actual shoe he wore with New Orleans: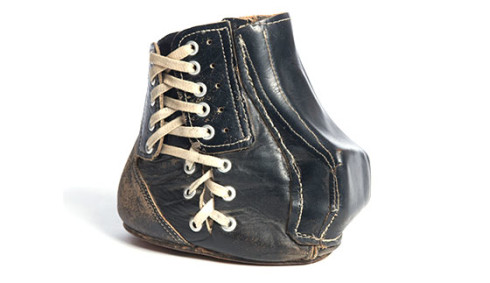 In his time off during the season and during the off-season, Dempsey, who was also born without the fingers on his right hand, drank a lot. In fact, the night before he kicked his record-setting field goal, he was down in the French Quarter tying one on!
This card was issued by Monarch Corona