The United States Football League (USFL) played for 3 seasons, from 1983-1985. The idea was to have a league that played in the spring and summer, so as not to compete for viewers with the NFL.
The owner of the New Jersey Generals after the first season was Donald Trump.  Trump tried to lure legendary coach Don Shula to take over as head coach. He did manage to sign Brian Sipe, and later Doug Flutie. But the real star of the Generals was Herschel Walker.
In '85, Walker set the pro football record, rushing for 2,411 yards, while averaging 5.5 yards per carry.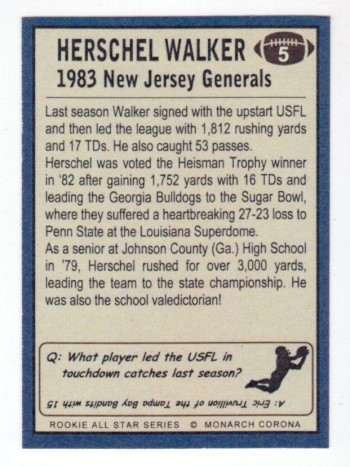 The USFL was actually profitable, until Trump bulldozed the other owners into changing their schedule to play in the fall beginning in 1986, in direct conflict with the NFL. This caused ABC to cancel their television agreements. Trump initiated an anti-trust lawsuit against the NFL and won his case, but the court awarded the USFL one dollar.
Herschel went on to play for the Dallas Cowboys and several other teams. By the end of his career, he had amassed over 25,000 all-purpose yards as a professional (USFL and NFL combined), which ranks him at #1 all-time.
This card was issued by Monarch Corona