After serving in the Navy during WW2, Joe was signed by the Braves organization, but he wasn't very happy with the treatment he got.  At Amarillo in '46 he had an outstanding 48-159-.301 season. He expected to get a raise and a promotion – but it didn't happen.  The following year, again at Amarillo, he had another tremendous performance at the plate, 38-127-.350 and once more he thought he would get more money or a promotion.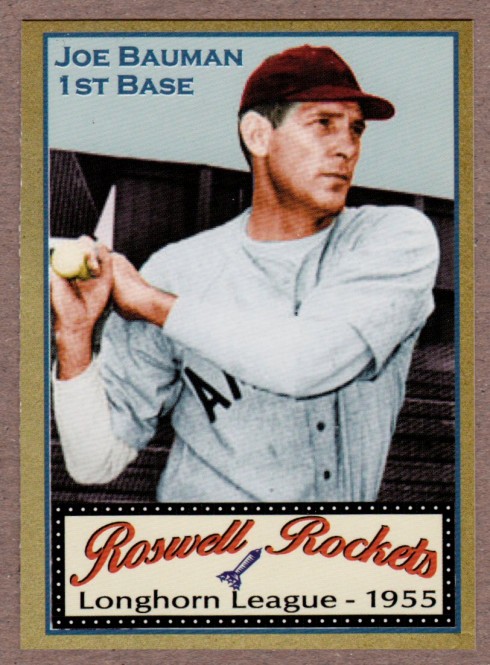 He did not get a raise, but he was promoted to Hartford in the Eastern League, where he spent a lot of time riding the bench.  In a part-time role, he hit 10 home runs and batted .275 for the season. After that season ended, he was offered a pay cut.
He told the Braves executives he could make more money selling shoestrings on a street corner. The Braves didn't improve their offer, and Joe took a hike.
He was immediately hired by a semi-pro team in Elk City, Oklahoma at $500 per month – nearly twice what the Braves had offered.  He was batting over .600 at Elk City when the Braves realized they had possibly made an error.  Their scouts swore Joe was the next Babe Ruth, and that with a year of seasoning he might be ready to come to Boston and make a name for himself.  They hurriedly sent Bauman a telegram offering a $100 raise and promoting him to their Southern League farm club, the Atlanta Crackers.  But it was too late.  Joe had signed a contract with the Elk City club, and he was a man who always kept his word.  With all due respect to the Braves, Joe Bauman was going to have to decline the Boston Braves' generous offer.
Elk City was at the time in the middle of an oil boom, and they had a great semipro team.  While Joe was there, he led them to three straight national semi-pro championships.  After 3 years of batting cleanup and hitting tons of home runs while batting in the .400 to .500 range at Elk City, Joe accepted an offer to play for Artesia (New Mexico) in the Longhorn League.  He was back in pro baseball.  Joe accepted the offer because he intended to go into business in New Mexico. He now regarded baseball as a part time job, a serious hobby, doing something he enjoyed. His future wasn't in baseball, it was in gas and oil. But he could still play pro ball and have a great time doing so, and the extra paycheck came in handy.  After two tremendous years with Artesia he had saved up enough money to open his own Texaco service station in Roswell, New Mexico, and just as important: To purchase his own contract from Artesia, making him one of the earliest free agents. He then offered his services to the Roswell Rockets, so he could play close to home.
During his two years at Artesia, Joe was the top hitter in the Longhorn League: 50-157-.375 and 53-141-.371   In '53 he went over to Roswell, where he set records in '54 with 72-228-.400  and had another big year in '55 with 46-132-.336
Meanwhile, Bauman and his wife were starting a family and a new business.  Joe drove and maintained the team bus, and operated two full-service gas stations.  Occasionally he would leave the park after a game and head off to tow someone out of a ditch or provide other emergency car service.  He really was a respected man in Roswell.
It has been noted that the Longhorn League was a "hitters league" and that Joe's feats weren't as great as they seem. I disagree. He hit 29 more home runs that year than his closest competitor.  He had 72 more RBIs than the second place RBI man in the league. It was a monster performance which cannot be so easily discredited.
After his big year in '54, Joe appeared on the cover of Life Magazine, and was offered a pretty good contract by San Francisco of the Pacific Coast League, but by then his gas station business was starting to become successful, and he was a busy man.  He stayed in Roswell.  An ankle injury in '56 ended his baseball career.
But it didn't end his gas station career, and around Roswell the old timers will tell you that if there was a service station Hall Of Fame, Joe would be in it.
This card was issued by Monarch Corona