Cronin was promoted to manager of the Senators before the '33 season got underway, and became the youngest manager in baseball.  There was some resentment, because the manager who was fired to make room for Joe was Walter Johnson, the greatest Washington Senator of all time.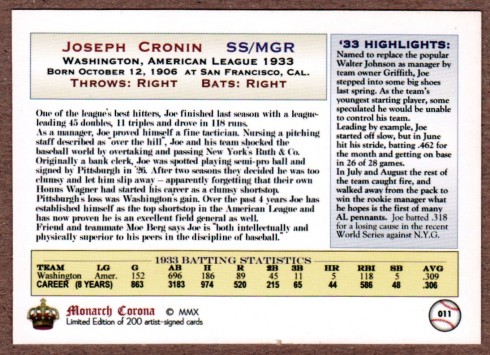 Cronin silenced his doubters when he led the Senators to the pennant, although they ended up losing to the New York Giants in the World Series.
The following year, the Red Sox offered Washington $250,000 for Joe. It was an unheard-of amount of money at that time, and it came with a five year contract as player-manager in Boston.  He managed the Bosox through some turbulent times, spending less time as a player and more as a manager.  He did write his name in the record books when he hit 5 pinch-hit home runs in '43. At that stage of his career he was the best pinch hitter in baseball.  Connie Mack told a reporter that season, ""With a man on third and one out, I'd rather have Cronin hitting for me than anybody I've ever seen, and that includes Cobb, Simmons and the rest of them."
Joe led the Red Sox through WW2, and dealt with some of the difficult personalities the team seemed to attract (Ted Williams, Jimmy Piersall, Lefty Grove, and Wes Ferrell to name a few).  In '46 he led the Red Sox to the AL pennant.
Eventually Cronin was promoted to General Manager at Boston, where there were rampant rumors that he had a secret plan to move the team to San Francisco – which he always denied.  In '58 he was named the President of the American League, an office which he held until he retired from baseball in 1973.
This card was issued by Monarch Corona