Tony Perez was coming of age in Cuba right in the middle of a revolution.  Fidel Castro was coming to power, and the island nation had very strained relations with the United States. But baseball is a different world, and those who played it in Cuba continued to do what they had always done: Play the game.  It was 1958, and the teenager was playing for a team representing the sugar refinery where he worked.  It was a Saturday afternoon, and his team was playing against a team from a coffee processing factory. A former player for the Havana Sugar Kings was in the bleachers that day, and watched young Perez go 7 for 7 with three home runs.  He also stole three bases during the game.  Word soon got back to Havana about a skinny kid named Tony Perez.
In 1960, young Tony was good enough to be signed by the Havana Sugar Kings of the International League, a team affiliated with the Cincinnati Reds.  When Reds scouts saw him hit, they liked him and paid the Havana team for his contract.  Tony was whisked out of Cuba on a flight just hours before the Cuban government suspended all travel to the United States. Unable to speak English, he was sent to Geneva in the New York – Penn. League to start his career.  He had a big year at Geneva in '61 (27-132-.348)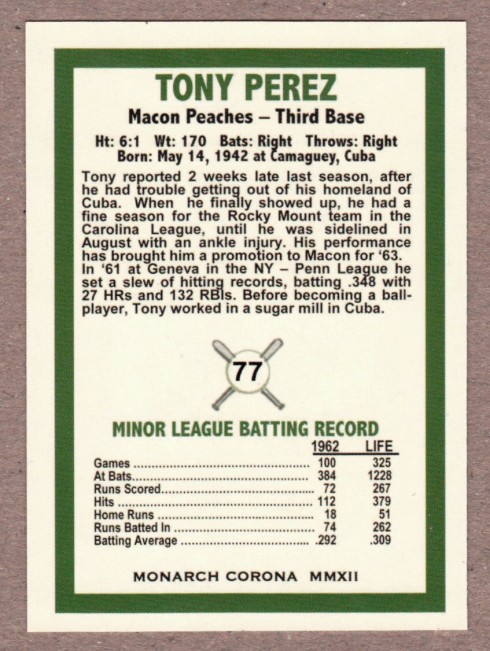 There weren't many people in Geneva who spoke Spanish. One of his teammates was outfielder Martin DiHigo Jr., the son of Hall Of Fame Negro League and Cuban League player Martin DiHigo Sr.
Over the next decades, Tony would make a name for himself and end up at Cooperstown, humbly accepting his inclusion in baseball's most prestigious fraternity – the Hall Of Fame.
Tony Perez came from a foreign country, speaking in broken English, and became a success as a player, as a leader, and as a human being.
This card was issued by Monarch Corona