It was July 30th, 1962.  Mets manager Casey Stengel was celebrating his 72nd birthday in the team clubhouse with a cake bought by the players and coaches.  He carved off a slice for Richie Ashburn, Felix Mantilla, Gil Hodges, Frank Thomas, Jim Hickman, Roger Craig, Jay Hook, and so on.  Finally, each player in the clubhouse had their piece of cake except one. First baseman Marvin Throneberry.  Every time he tried to get a piece, Stengel seemed to be blocking him, until the exasperated Throneberry asked, "Why don't I get a slice Casey?"  Stengel stopped and looked up at Marvin with a twinkle in his eye, and said, "Sorry Marv, but I figured you would drop it!"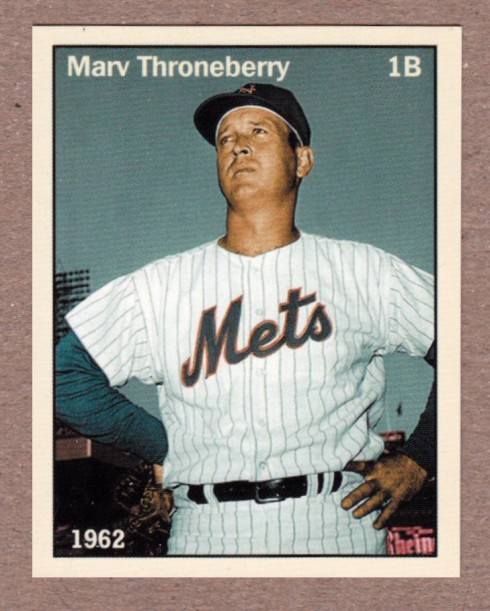 Throneberry had his best season that year, on a team which set a new record for losing.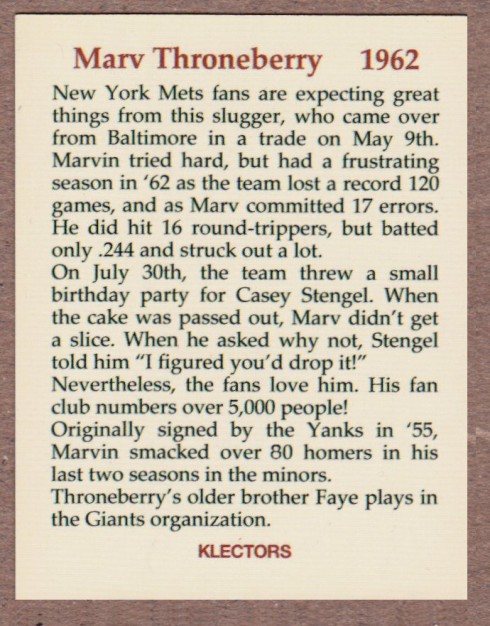 The Mets had picked Marv up in a trade early in the season.  Originally signed by the Yankees, he hit 118 home runs in three seasons with Denver, leading the American Association in HRs and RBIs three years in a row.  Throneberry looked like a cinch to make it in the big leagues.   Along with veterans Frank Thomas and Richie Ashburn, he was going to give the brand new Mets some punch in the lineup.
In a game against the Chicago Cubs, he hit what appeared to be a game-winning triple with the bases loaded and two outs. The problem was that everybody in the dugout noticed that he missed touching first base. When the Cubs' pitcher tossed the ball to the first baseman, the umpire called Throneberry out. The inning ended and the runs didn't count. Casey Stengel, the grizzled manager of the Mets, couldn't believe it and began arguing with the first-base umpire. As they exchanged words, another umpire walked over and said, "Casey, I hate to tell you this, but he also missed second."
This card was issued by Klector