It was a balmy afternoon at Al Lopez Field in Tampa, Florida on June 10th of 1961. The Tampa Tarpons were playing a doubleheader against the Leesburg Orioles.  The Tarpons had a famous and popular manager, Johnny Vander Meer. They had been playing some exciting baseball, and the stands were filled with over 8,000 fans – a very nice sized crowd for the minor leagues in that era.  To Tarpons 2nd baseman Pete Rose, it was a very important game. His parents were both there, along with several relatives.  He had been batting in the .375 range since the season started in April, but he wasn't doing well as a fielder.  The hardest move a 2nd baseman must master is the pivot and throw to first with a runner sliding. Some got it, and some didn't. Pete didn't, at least not yet.  But at least he was hitting well.  Still, he was two points behind Jim Livesey of Leesburg in the batting race, and statistics like that were very important to Pete.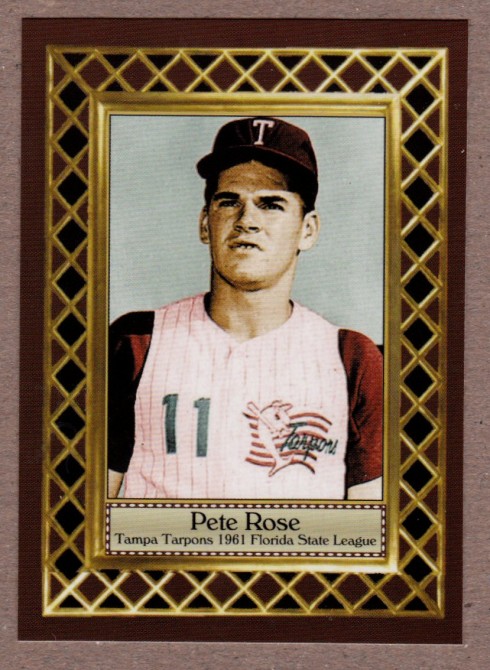 The first two times at bat in the first game, he grounded out and struck out.  In the 2nd inning he made an error throwing to first. Livesey got one hit.
The catcher for the Leesburg team in both games was a veteran, and he razzed Pete each time he came to the plate.  "Hey Hot Shot, you need a hanky?"  "A Rose by an other name would still smell like Sh*t!" You get the idea.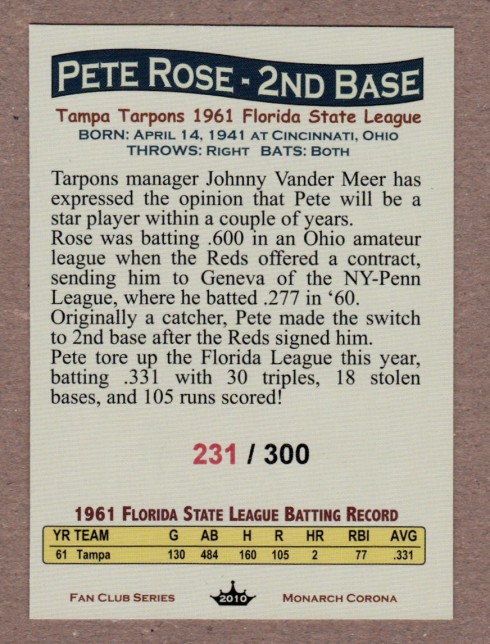 On his third time up Pete hit a line drive deep into the pocket in left center, and took off at full speed. By the time the ball made it to home plate, Pete had crossed it with a rare inside the park home run!  On his next time up, he hit a single. So much for the first game.
In the second game, Pete did the following: He grounded out, struck out, hit another inside the park home run to the exact same spot, then singled.  Oh, and he was charged with an error on a bad throw in the 2nd inning!  And Jim Livesey for Leesburg got a hit. It was almost an exact repeat of game #1!
But what about that Leesburg catcher with the smart mouth? Oh, that guy? It was Cal Ripken, Senior!
This card was issued by Monarch Corona