George was unlikely to succeed. Bear Bryant, his college coach at the University of Kentucky in the late 1940s, told his first pro coach, George Halas of the Chicago Bears, that Blanda would never make it in the National Football League. Bryant, it later became apparent, was occasionally wrong.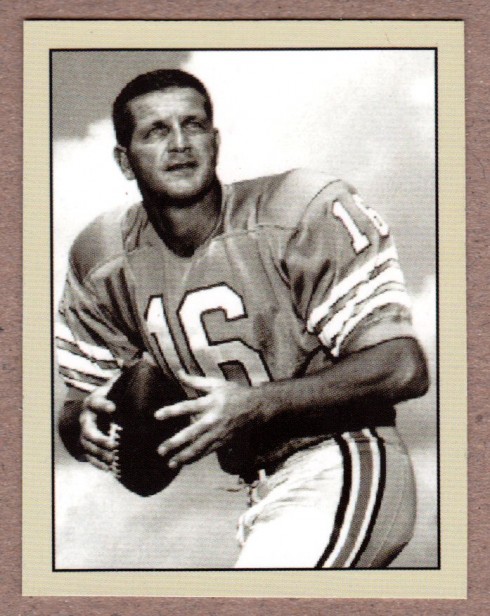 Blanda was the starting quarterback his last two seasons at Kentucky (1947-48), compiling rather ordinary numbers: 120 completions in 242 passes (.496 percentage), 1,451 yards, 12 touchdowns and 16 interceptions.  When he finished his Kentucky career, he thought his football days were over. But the Bears drafted Blanda in the 12th round, and after some negotiating, Halas signed him to a $6,000 contract with a $600 bonus.  Little did Blanda know that he'd battle with Halas over his contract for years to come. After four years and no raises, Blanda almost bolted to Hamilton of the Canadian Football League in December 1952, but Halas kept him by raising his salary to $11,600.  Blanda responded by leading the NFL in attempts (362) and completions (169) in 1953. However, he threw 14 TD passes and 24 interceptions as Chicago (3-8-1) lost seven games by seven points or fewer.  He threw for 15 touchdowns in eight games the next season before he suffered a separated shoulder against the Cleveland Browns and missed the last four games. It was the only significant injury for Blanda in his first 21 pro seasons. The Bears won those four games with Zeke Bratkowski at quarterback and finished 8-4.  From 1955 to '58, Blanda was primarily a kicker and a backup to quarterback Ed Brown. In 1959, weary of his difficult dealings with Bears' management, Blanda retired, only to emerge a year later with Houston of the brand new AFL.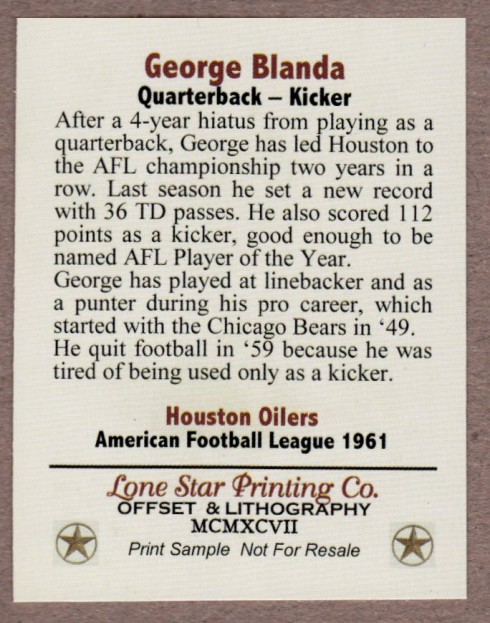 With the Oilers, he had three seasons of more than 3,000 yards passing, and he directed Houston to league championships in the AFL's first two years (1960-61).  Blanda passed for 301 yards and three touchdowns in the 1960 championship game, a 24-16 victory over the Los Angeles Chargers.  He led the AFL in passing in 1961, posting a personal-high 91.3 rating, and was the United Press International and Sporting News AFL Player of the Year. He threw for 3,330 yards and his 36 touchdown passes stood as the pro record for 23 years until Marino broke it in 1984.
In 1967, at age 39, he was traded to Oakland, where he kicked 201 consecutive extra points over five seasons (1967-71) and played on the 1968 AFL championship team that lost 33-14 to the Green Bay Packers in Super Bowl II.  His most celebrated Raider season was 1970. As a replacement for starting quarterback Daryle Lamonica, who kept getting hurt, the 43-year-old led Oakland to four wins and a tie in a remarkable five-game stretch in midseason.  Coach John Madden called for Blanda late in the first quarter against the Pittsburgh Steelers, and the veteran threw two touchdown passes and kicked a field goal in a 31-14 victory. The next Sunday, his 48-yard field goal on the game's next-to-last play brought Oakland a 17-17 tie with the Kansas City Chiefs.  He also had a tying touchdown pass and deciding kick against Cleveland in a 23-20 win and produced an 80-yard drive in the final four minutes at Denver that ended with a 20-yard scoring pass to Fred Biletnikoff giving the Raiders a 24-19 victory. The next week he helped them defeat the San Diego Chargers, 20-17.  Though he threw only 55 passes all season, Blanda's reserve role won him the UPI and Sporting News Player of the Year awards in the AFC.
He played nine seasons with Oakland, retiring one month shy of his 49th birthday in August 1976. In his 26-year career, he threw for 26,920 yards, completing 1,911-of-4,007 attempts, with 236 touchdown passes.  He was voted to the Pro Football Hall of Fame in 1981, his first year of eligibility.
This card was issued by Lone Star Printing