It was August 26th of 1960, and umpires Ed Runge and Bill McKinley were in Baltimore, where they had just worked a doubleheader between the Orioles and the visiting Kansas City Athletics.  After the second game ended, the two married men went out on the town, ending up at a strip joint called the "Gaiety Club" where they met a 21 year-old stripper who specialized in Egyptian Belly Dancing.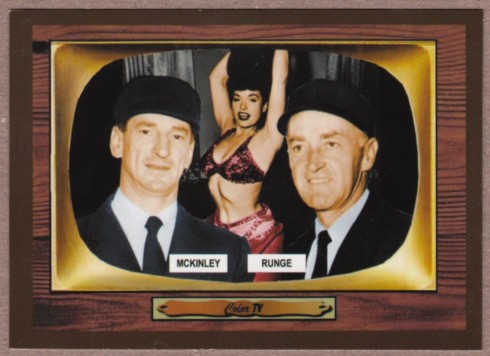 As students of human and social behavior, the umpires decided that belly dancing was something they should investigate more fully. They arranged to meet the young dancer and a friend at a local motel a couple of days later to conduct further research.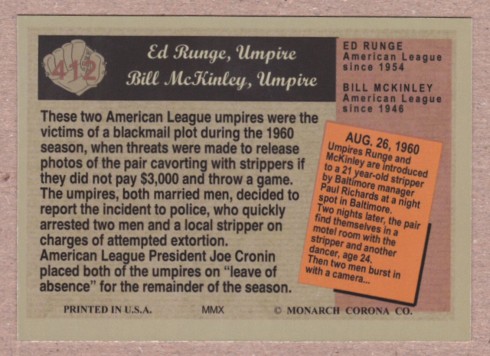 On the 28th, a Sunday, the dancers met the umpires at a suburban Maryland motel.  They started exhibiting their dancing. Suddenly, the door to the motel room burst open, and two men with cameras rushed in snapping photos with flashbulbs popping.  The men left, saying "We'll see you fellows in court" as they exited the room.  The umps were stunned.  The dancers protested that they had no idea who the men were, and all four parties hurriedly checked out of the motel.
Back in Baltimore, the umpires found that a copy of one of the photos had been slipped under the door of their hotel room with a phone number attached.  They called the number and were told that it would cost $5,000 cash to silence the photographers.  Arrangements were made for the payoff to occur the following day at the airport.
Runge and McKinley decided they would have to call the police, and the next day at the airport the two extortionists were arrested.  The 21 year-old stripper was also charged.
There were not any long-term consequences to McKinley's and Runge's umpiring careers arising from the indiscretion. McKinley continued to serve as an American League umpire until 1965, Runge until 1970.
This card was issued by Monarch Corona