How good a ballplayer was Dillinger?  What we know is that he was the best hitter on the Martinsville team, and it was his rookie season in pro baseball.
True, he was in the lowest reaches of the minor leagues, but he acquired the nickname "Jackrabbit" that season, so he must have been fast.  No professional manager puts a guy with a concrete glove at shortstop, so one must also conclude that young John Dillinger was an able man with the glove as well.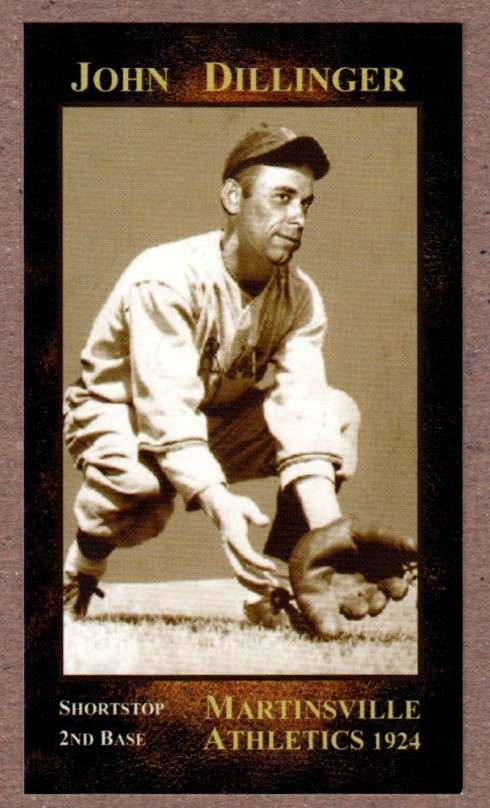 Would he have made it as a big leaguer? Almost certainly not, the odds were stacked against him.  There were at least  5,000 men playing pro baseball, and only about 400 in the major leagues at that time.
On the other hand, John Dillinger proved in many cases that he was the sort of fellow who would find a way to get what he wanted. He was young, intelligent, and determined. He had baseball skills, and he was hungry. You can never count such a man out.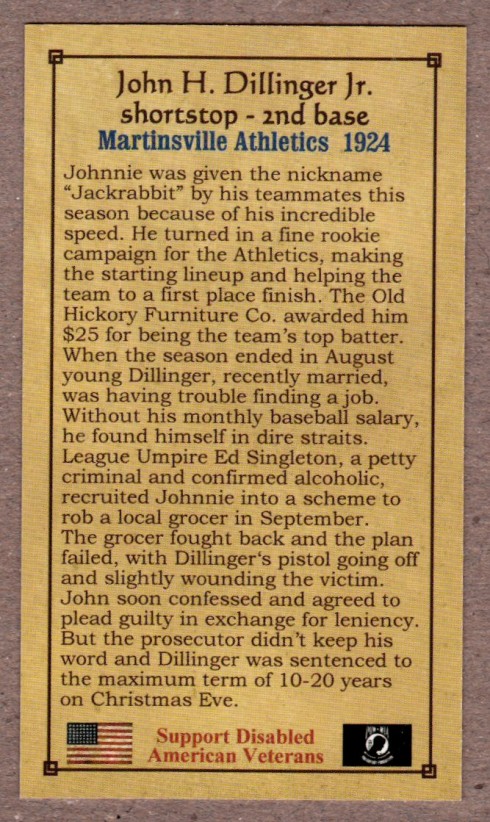 Minor league pay wasn't so good in those days, and Johnny was only making $75 a month during the season. When the season ended, he was unemployed and having a hard time paying the bills. He had recently married, and there was a lot of financial pressure on the young couple.
About two doors down from the Dillinger house, a man named Ed Singletary rented a room. Ed had a rap sheet with the police and had done a couple of stints in jail. He was in his 40s, and he too was unemployed and in need of money. Dillinger knew him: Singletary had been an umpire that season, and worked most of the Athletics home games. The two men struck up a friendship.
Singletary had a plan. He had been "casing" a local grocer, and felt like a robbery might be an easy way to get some quick cash. He discussed it with Johnny in August, but that month Dillinger received a welcome surprise: The Old Hickory Furniture Company awarded him $25 as the team's top hitter.  John rejected Singletary's rash plan and continued looking for work.  Dillinger was mechanically inclined, and found a few odd jobs, but nothing steady could be found, and he was soon broke again.
After coming home to find his young wife weeping with an eviction notice attached to his door, and under renewed pressure by Ed, Johnny agreed to help rob the grocer.
Singletary equipped Johnny with an old cheap .25 caliber revolver, and the pair laid in wait, surprising the 58 year-old merchant as he was locking up.
They picked the wrong man. He refused to hand over his cash box, and went on the attack. Singletary ran away, Dillinger's gun went off during the struggle, wounding the grocer in his left foot. As soon as the gun fired, he too ran away, leaving the cash box behind. As he ran, he heard the victim shout, "I know who you are, you're Dillinger!"
It seems the man had been to a number of Athletics games, and had seen Dillinger run.  Now he was looking at the same "Jackrabbit" running away, and he suddenly knew.
The two foiled robbers met at Dillinger's place, and Johnny told Ed that he had been recognized. He would have to skip town immediately. He left town that evening, alone, and went to stay with a friend who lived about 40 miles away.
But Dillinger's father soon tracked him down, and told Johnny he would intercede with the District Attorney on John's behalf if he would turn himself in.  John's dad went to the District Attorney and explained that John was a good kid, had never been in any kind of trouble, and no money had actually been taken. The District Attorney agreed to show leniency if Dillinger would voluntarily turn himself in. He did, but the District Attorney lied.
Without a lawyer to represent him, John was convicted of armed robbery, and the D.A. asked the judge to give him the maximum: Ten years.  The judge did it.
Something inside John Dillinger died that day.  It was the death of his dream of becoming a big league ballplayer.  And something else came alive inside of him: A hatred for the legal system that betrayed him. But until the day he died, he was always a diehard baseball fan.
This card was issued by Dave Stewart