Before Pete Rose ever ran to first base after a walk and slid headfirst into bases, Hank Bauer had spent his entire career doing so. Whitey Ford gave Rose the nickname "Charley Hustle" during spring training in Florida while making fun of the rookie. Ford would have certainly thought twice before making fun of Hank Bauer. He was as tough as cowhide.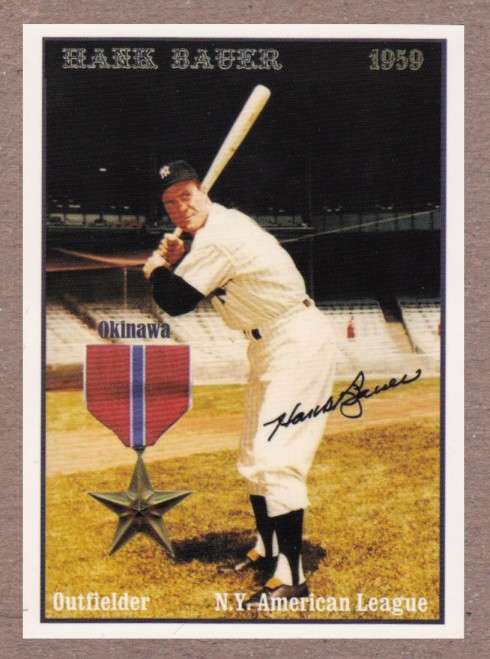 In fact, one day after a game at Yankee Stadium in which Whitey had performed poorly after a night on the town, Bauer pinned Ford up against the wall and told him in grave tones, "Don't mess with my money!"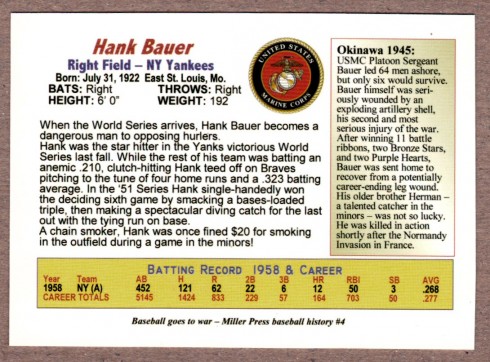 Hank also had a heart of gold. Once day in 1951, the Yankees had just called up a new rookie from "the sticks" and the kid showed up with just one suit, a plaid outfit that just didn't look the part of a Yankee.
Bauer took the kid out and bought him two brand new suits. That kid was Mickey Mantle.
Bauer served as a Marine during WW2, where he was a real hero. In 1945 at Okinawa, he led 65 men ashore. Only six of those men would survive, including Hank, although he was seriously injured by an exploding artillery shell during the invasion. By the time the war ended, he had accumulated 11 battle ribbons, two Bronze Stars, and two Purple Hearts, while earning five promotions.
Sadly, his brother Herman didn't survive the war. Herman was the White Sox top prospect as a catcher, batting .300 in two minor league seasons before the war. He was killed in the Normandy invasion of 1944 and buried in the huge cemetery there with thousands of other Americans. It was Herman who had obtained a tryout for Hank in '41.
In the 1958 World Series, Hank was the Yanks' big hero. He hit 4 home runs with a .323 batting average. The rest of the Yankees batted .210 against the Braves.
Bauer was almost never seen without a cigarette. In fact, he was fined $100 by Kansas City Blues manager Rowdy Bartell for smoking in the outfield during a game in '47.
This card was issued by Miller Press