It was a hot July day in 1937 at a swampy little place named Jeanerette, Louisiana.  Ed Lopat, in his first year of pro baseball, was on his way back home, and to a career mending shoes. His hitting had been anemic, even after being demoted from Greensburg in the Penn League to the Jeanerette Blues of the Class D Evangeline League. It was the poorest team in the weakest league in the country, the lowest rung of the professional baseball ladder. And Ed was a .218 hitter with a slew of fielding errors.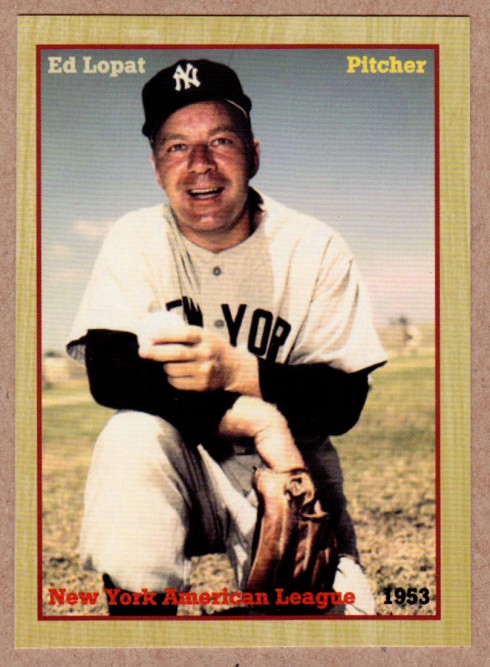 (click image to enlarge)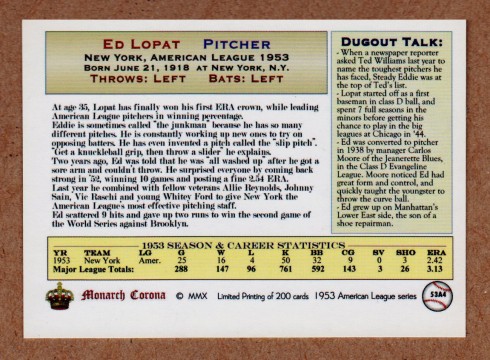 Although he had been signed as a 1st baseman, Lopat was riding the bench because he was such a poor hitter and fielder. Just to keep him busy, Blues Manager Carlos Moore assigned Ed to play catcher in the bullpen.  Lopat knew this assignment was going nowhere – there aren't any left-handed catchers.
He could see that his short career as a baseball player was about to crash and burn.
Out in the bullpen one day, he was catching while an old  veteran named Eli Birmingham pitched. Eli had about a dozen different pitches, and Lopat started mimicking him. When Birmingham threw a curve, Ed curved it right back to him. When he threw a screwball, he got the same right back. When he threw a fastball, a drop, and a shine ball, they all came right back to him. The other players in the bullpen were amused at this, and Manager Carlos came over to watch. He liked what he saw, and two days later, Ed was starting his first game ever as a pitcher. It would take him 7 years to finally make it to the big leagues.
Lopat never had a blazing fastball, and by '53 he had slowed down considerably. Yet that was the year when Ted Williams said Ed was the hardest pitcher for him to face in the American League. What was his secret?
Ed was constantly coming up with new pitches, varying his speed, and throwing sidearm, overhead, and three-quarters. He was the most effective pitcher in baseball that year, but he was often called "the Junkman" because of his motley assortment of pitches. He baffled hitters with a mix that included various curves, sliders, knuckleballs, palmballs, and sliders – all thrown at varying speeds.
This card was issued by Monarch Corona