In June and July of 1887, Centerfielder Tom Brown of Pittsburgh was playing the worst baseball of his career.
A solid batter for years, Tom was no longer a .300 hitter. He was no longer a .250 hitter. Brown, who was one of the fastest runners in baseball, was now getting thrown out, and he was making more fielding errors than ever. A man who had recently been a star was sinking fast.
Tom Brown didn't have some rare illness, and he wasn't getting too old to play the game. It was the booze. He had been drinking since arriving in Pittsburgh, and it was destroying him. On August 15th, manager Horace Phillips gave Brown some bad news: He was being dropped from the team. Phillips was going to have to find a new outfielder. One of his coaches told him about Billy Sunday, who played for Spalding's team in Chicago.
The worst thing you could say about Billy Sunday was that he was always trying to save souls and get the other players to go to church with him. By his own admission he didn't drink much, and seldom gambled. Manager Phillips wanted to get a man like that, someone who could stay sober and set a good example. That's exactly what he got when he obtained Billy.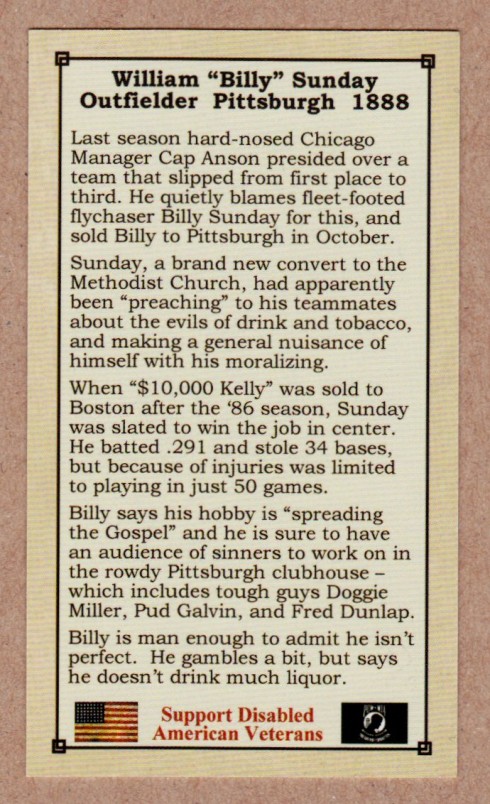 Billy had just batted .291 at Chicago, and Pittsburgh was probably hoping for something more than a .236 hitter, but that was all Sunday could muster during his first season at Pittsburgh. He did steal 71 bases, and lived an exemplary life off the field.  In Billy's second season with Pittsburgh, the team was doing horribly. Billy was again having a weak season at the plate. The team went through three managers that season. One of them, Ned Hanlon, was asked about Sunday, and what a fine young Christian man he was. Hanlon observed that he would just as soon have a Free Thinker who could hit the ball than a Methodist who couldn't. His idea of a fine example was someone who could produce some runs and win some games.
More and more, Billy was being called by God to preach. It wasn't that he was a loafer – he had received a higher calling. If Sunday had put as much heart into baseball as he did preaching, he would have been as good as anyone in the sport for a long time.
In 1890, when the Players League formed, Pittsburgh lost all of their experienced players, except Billy and the manager.  The team was terrible, finishing 23-113 and of course in last place.  The team was so broke by then that they sold Billy to Philadelphia in August for $100 cash and two untried rookies! Soon afterwards, Sunday left baseball to become a full-time evangelist. He couldn't ignore the call of God, and the rest is written large on the pages of history.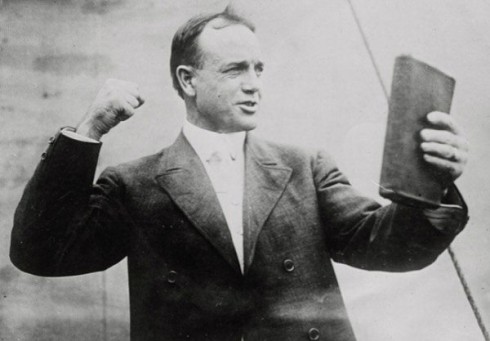 Billy Sunday was the most important man in America for over a decade.  More than anyone else, it was Billy Sunday who convinced the average American to support Prohibition of alcohol sales. Carrie Nation and her hatchet act were just a sideshow – it was Reverend Billy Sunday who preached the sermons which convinced an entire nation.
Billy also addressed other social issues of the day. He supported women's suffrage, he called for an end to child labor, and he included blacks in his revivals, even when he toured the deep South.
This card was issued by Dave Stewart