It was a pretty good season for rookies at Wrigley Field in 1960.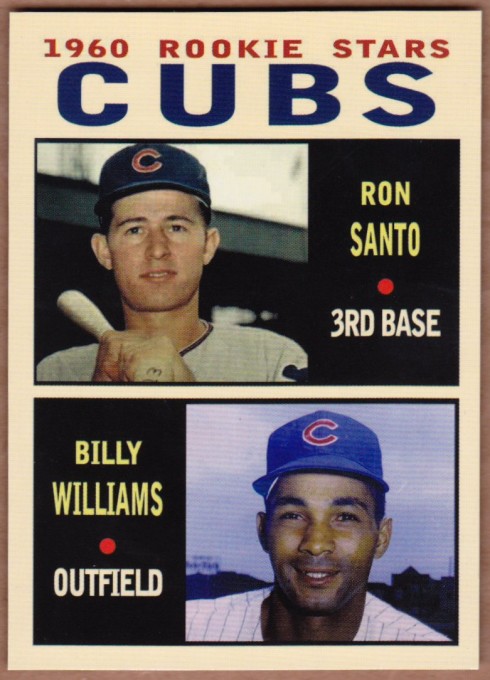 These two Hall Of Famers later joined Ernie Banks and some other great players (Kessinger, Beckert, Jenkins, Hundley, Holtzman to name a few) to make up the best team to ever fail to make the NL playoffs.The whole infield from Hundley all the way around to Santo made the NL All Star team that season.
The Cubbies were in first place for most of the year. Then, on September 9th, a photo was published in the New York newspapers of a black cat crossing in front of Santo, who was in the on-deck circle at Shea Stadium during a game against the Mets.
The rest, as they say, is history.
The manager was Leo "the Lip" Durocher. That was 1969, the year of the Miracle Mets.
However, this card is set 9 years earlier in 1960.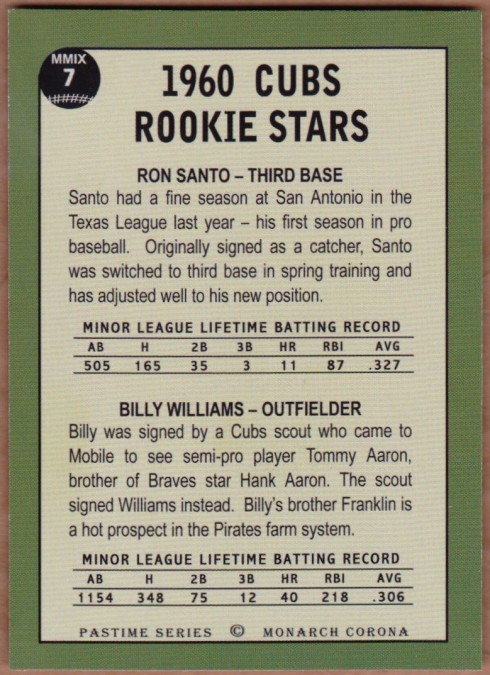 The Cubs started off in '60 with Charlie Grimm as manager, but he was let go early and Lou Boudreau took his place. What a switch, from laid-back fun-loving banjo-playing Good Time Charlie to an intense no-nonsense Boudreau.
This was the season when Santo won the starting job at 3rd base.  Talk about Brooks Robinson til you're blue in the face – I'll take Ron Santo any day.  He was the most reliable third baseman of the era.
And Billy Williams?  He would have to wait another season to break in as a starter, but once he made the lineup, he was consistently excellent.  He was probably the the most underrated guy in baseball during his career.
The 1960 Cubs ended up in 7th place, then in '61 finished in 7th again, this time with 4 different managers.
This card was issued by Monarch Corona Card Co.