It was Wilhelm's rookie season, and he was nearly impossible to hit.
Hoyt was never a good batter, and had very little power. It is a huge fluke that his first time at bat he hit a home run.
Wilhelm had a long and glorious career (29 professional seasons) as a fireman, and was inducted into the Hall Of Fame.
Wounded in the Battle Of The Bulge during ww2, he was promoted to Sergeant on the battlefield and carried the nickname "Sarge" as a ballplayer.
In the final years of his career, Hoyt was a short relief man for the Cubs and the Braves.  Because the knuckleball works best when there are drafts and breezes, he was very effective at both Wrigley Field and at Fulton County Stadium.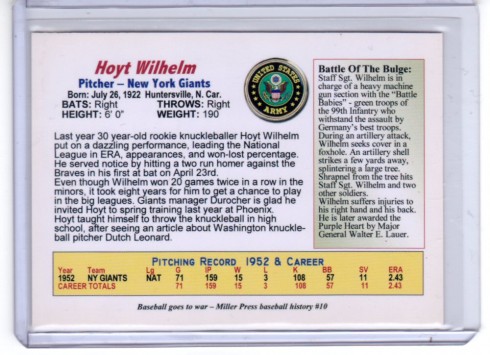 This card was issued by Miller Press