Buzz started off as a pitcher, and was the best in the west. winning 22, 29, 19, and 25 games in 4 consecutive seasons with the Oakland Oaks of the PCL.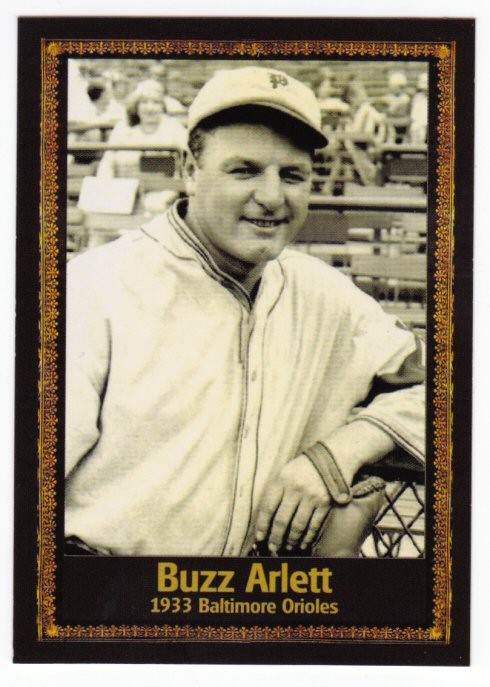 Major league scouts were pursuing his services when he threw his arm out in '23.
He immediately became an outfielder, and immediately taught himself to switch-hit.  He was every bit as good a hitter as he had been a pitcher. And he had lots of power – in fact, Buzz was the first switch hitting power hitter.
Over a span of 8 seasons in Oakland, Buzz collected 237 HRs,  1,100 RBIs and a .354 batting average. Year after year he had double digits in triples and 50 or more doubles.
Certainly, Artlett would have been a star in the major leagues, but the truth is that he made more money at Oakland than he would have made with a big league team. The Oaks liked Buzz, he brought in a lot of fans, and they were in no hurry to get rid of him. So it was that one of baseball's greatest hitters "languished" in the Pacific Coast League.
His one season in the big leagues was with the Phillies in '31, when he batted .313 with 18 home runs in about 120 games. A fine rookie season, although he did commit 13 errors and finish with a .955 fielding average. These are typical numbers for a rookie.
However, when it came time to sign up again, the minor league Baltimore Orioles were willing to pay Artlett more, and so he became the terror of the eastern minors for the next 5 years, batting over .320 year after year while leading the minors in home runs.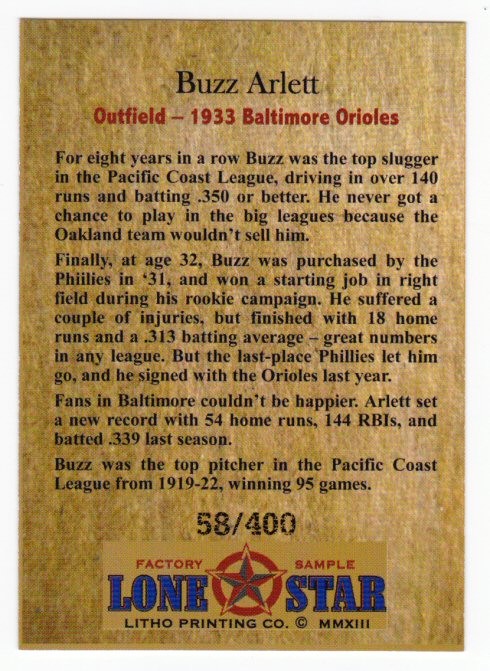 Buzz later owned a bar in Minneapolis, Artlett's Place.  It was regarded as a gambling joint, and was quite successful though the '50s.
He acquired the nickname "Buzz" as a young pitcher, because of the way he cut through opposing lineups like a buzz saw.
This card was issued by Lone Star Printing