The 1931 Houston Buffaloes were managed by Joe Schultz, a 38 year-old former big league outfielder.  Joe had a long career as a manager, including his stint at the helm of the expansion Seattle Pilots in 1969 at age 76.  His season with Seattle is colorfully depicted in Jim Bouton's book "Ball Four" which came out the following year.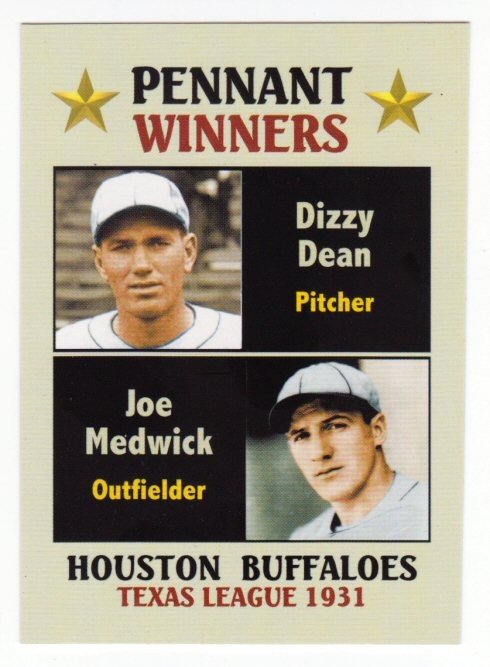 Although Dean and Medwick are the most famous members of the '31 Houston team, there were other notable players involved:
Homer Peel – known as the Ty Cobb of the Texas League, Peel still holds the highest career average in Texas League history. Homer could have made his career with a big league team, but seemed to prefer playing in his home state.
George Washington Payne – one of the greatest career minior league pitchers ever, he won 348 games during a 26 year career. He was 42 years old in '31, and won 23 games for Houston that season.
Tex Carleton – would break into the starting rotation with St. Louis in '32 and go on to pitch in 3 World Series.
Earl Smith – a 40 year-old outfielder who consistently batted over .300 in the high minors after a career as a starting outfielder from 1916-22 in the major leagues.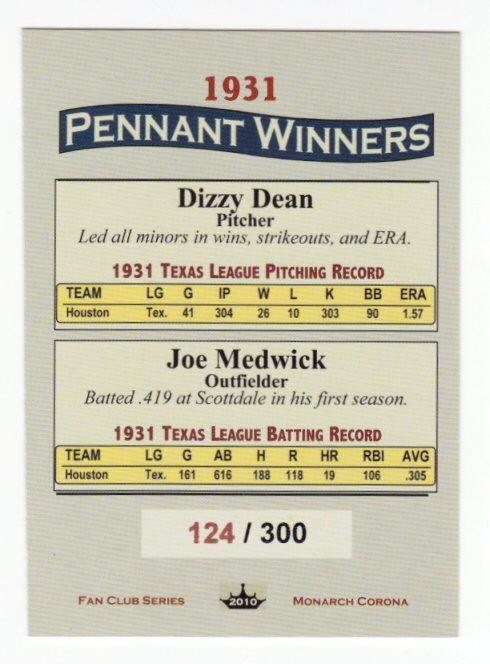 The team went on to the Dixie World Series against Southern League champion Birmingham, where they lost in 7 games.
This card was issued by Monarch Corona