There could have been a 4th player on this card – a man by the name of Earl Robinette.
Who???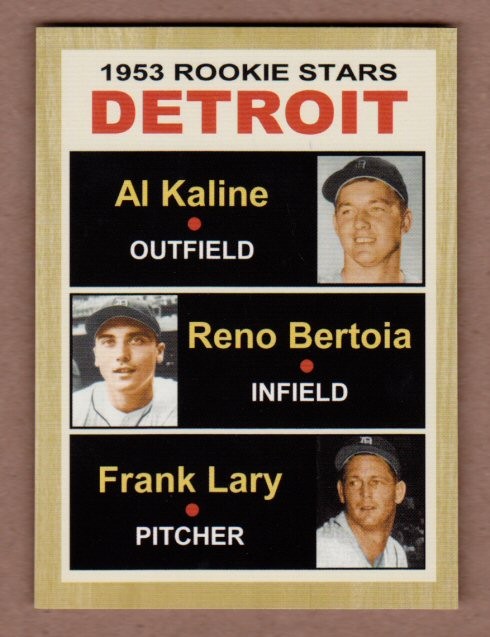 Earl Robinette.
The contract was on the kitchen table. It was a warm summer day in the early 1950s.
Robinette was 19, the oldest of six children, and he was working on the family farm. Robinette was using a horse to cultivate a cornfield because the ground was wet and he couldn't get the tractor in that area. He was about a quarter-mile from the house and he saw his father waving a white towel up and down, the signal to return to the house.
So Earl got on the horse and rode up to the house. He was filthy. His brother brought out a towel and a clean shirt and they hosed him down.
Inside the house, three members of the Tigers' front office were sitting at the kitchen table. They offered a contract to play for the Tigers. The offer included a $28,000 signing bonus.
Robinette's parents didn't react.  They never said anything.  Nobody said anything. Earl kept waiting for his dad to say something. He figured he'd say, 'Well, this is what we have been working for.'
Earl was really excited, but nobody else was.  He was a quiet obedient son, so he just accepted it.
Robinette had been discovered by a Tigers scout at a tryout camp in Mt. Pleasant, which was held in late June 1954.  An outfielder with a strong arm, he could hit well from both sides of the plate.
The contract was on the table, quite literally.  But his parents sat in silence.
The Tigers officials waited in uncomfortable silence, then tried to get some kind of response. Finally, they left, taking the unsigned contract with them; and Robinette (many years later) said he could never figure out why his parents reacted like that, why they didn't encourage him to accept the deal.
"To tell you the truth, I really don't know," Earl Robinette said. "It was never brought up again. My father never said a word. He just sat there at the kitchen table."
And it was the one regret of his life, not signing that contract.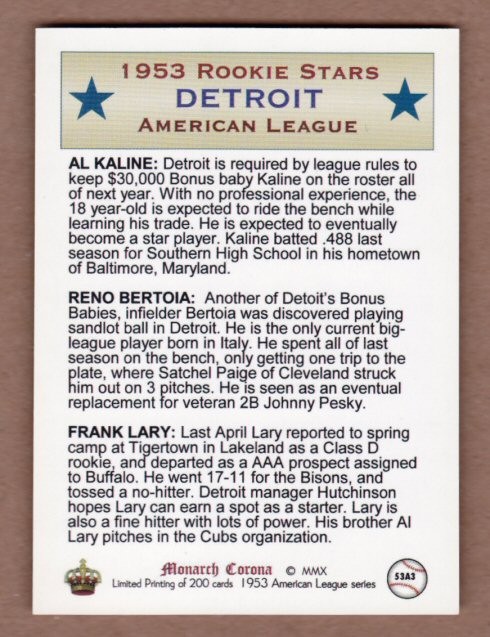 Kaline went on to a Hall of Fame career.
Bertoia was a mediocre hitter, but the fans loved him.
Frank Lary was a solid starter for 7 years in Detroit, winning 117 games during that period and twice winning 20+ games.
Earl Robinette later spent 37 years teaching college fine arts and became an artist. You can see some of his work at earlrobinette.com
This card was issued by Monarch Corona