Don Shula forged his parents' signature on a form in order to play high school football, something his mother had expressly forbidden.  He attended tiny John Carroll University, where he got his chance when the starting halfback was injured.  Don came in and ran for 175 yards and 2 TDs to win the job.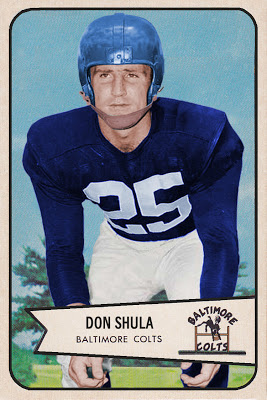 Drafted in the 9th round by Cleveland, Shula knew he didn't have much chance winning a starting job on offense – the Browns had a strong backfield.  So he concentrated on defense, playing what was called defensive halfback in those days.  He made the team, and went on to play 7 seasons in the NFL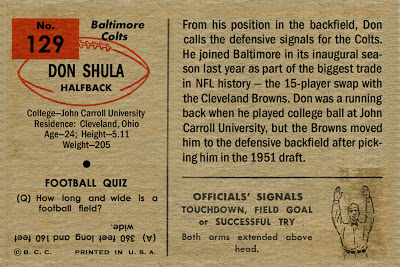 When Don Shula was named head coach of the Baltimore Colts at age 33, he was the youngest head coach in NFL history.
This card was issued by Bob Lemke