As a teenager growing up in a very tough Los Angeles neighborhood during the 40s, Blackie was big for his age and a known scrapper. He became associated with some guys who worked with the Mickey Cohen gang. Blackie was hired to provide "muscle" for bookies and loan sharks. But Blackie was also a promising baseball talent.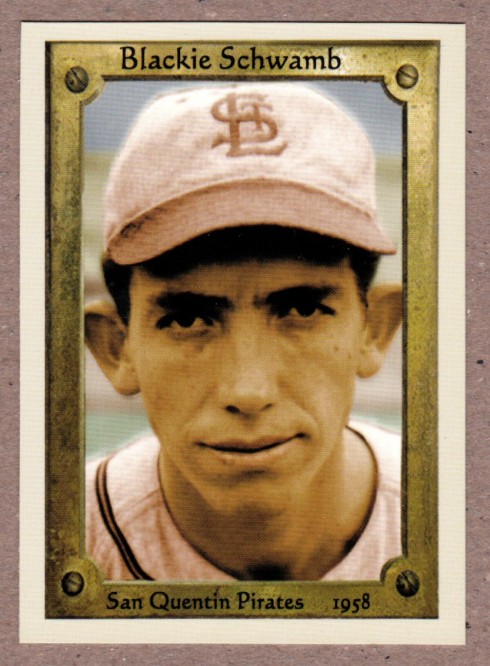 One day, while watching a semi-pro team affiliated with the St. Louis Browns, Blackie was downing a few beers with his friends and started heckling the players on the field. A scout told Blackie "If you can't do any better yourself, you need to shut your trap!"
Blackie went out to the mound and threw smoke. Eleven strikeouts later, he had everyone's undivided attention and within a few months, Schwamb had been offered a contract and was playing with the team.
Two years later, after pitching and partying his way up through the minors, Blackie was invited to the St. Louis Brown's spring training camp and quickly became the most promising rookie there. He made the team, then in late April he got his first start, defeating the Washington Senators to pick up his first major league victory. But things soon went south, as Blackie resumed his drinking and bar-hopping habits. After he was involved in a brawl with some soldiers at a nightclub, and after he was caught sneaking beer into the Browns' bullpen, the team was forced to suspend him.
During the suspension, Schwamb went back to L.A. and his friends on the streets. He started drinking even more, and staying out into the wee hours.
Tall, tanned, and handsome, Blackie was dating a number of young women and going through lots of money.
At the end of the season, the paycheck ended and Schwamb found himself hustling to make enough "dough" to fund his Hollywood lifestyle.
He and an accomplice were drinking late one night in a local club, when they noticed a Doctor flashing a fat wad of cash. The guy was apparently very drunk, and the two men decided it would be a "piece of cake" to jump him outside of the bar and take his money.
The Doctor may have been drunk, but he must have sensed what was going on, because he slipped out a side door and vanished into the night. Blackie and his friend quickly went looking for him, and eventually found him at a public telephone two blocks away. They beat him up and robbed him, but one of the men hit the Doc too hard with a pistol, and he died at the hospital. It was First Degree Murder.
Within two months Blackie was convicted. There were plenty of witnesses and jailhouse snitches who testified that Schwamb did the deed.
Blackie said a tearful farewell to his wife and son and was sent off to San Quentin prison in January of 1950. During his first couple of years in the penitentiary, Schwamb was constantly in trouble. He fought at the drop of a hat. He had no fear of solitary confinement, and he was surly with the other inmates and with the guards.
One day he walked down to the baseball diamond in the prison recreation yard, and got into a pickup game.
Blackie was back in the game – albeit on a different scale and in a vastly different league. The spectators were those guys with the long rifles watching from gun towers. There was rampant gambling on the games among the convicts.
In this mix of good and evil, Blackie just thought about one thing: Pitching. He constantly learned new pitches, while developing a beautiful drop-off-the-table curve.
With a 100 mph fastball and pinpoint control, Schwamb became somewhat of a celebrity in baseball circles. The air was full of "what if" and "if only" conjectures as he pitched brilliantly against the best hitters who visited the prison to play exhibition games over the next eight years.
He struck out 16 San Francisco Seals for a 3 hit shutout in an exhibition game during the spring of '52. He tossed a perfect game against a team with 5 major league players. During his ten-year stint behind bars, Blackie won 70 games and recorded 720 strikeouts.
There was some excitement when Schwamb was paroled in the fall of 1960. Would he play pro ball? Tommy Heath, who had been manager of the Seals team that Blackie mowed down in '52, was now the manager of the Hawaii Islanders of the Pacific Coast League. He remembered the tall dark fireballer, and decided to give him a chance.
Blackie reported to the team at 35 years old – hard years of smoking two packs a day and drinking when he could.
But it was simply too late. Time had run out, and his skills had eroded. He wasn't bad, but he wasn't good enough to keep, and he was let go. He came home to Los Angeles, got a job, and stayed out of trouble until his death in 1989.
This card was issued by Superior Card Co.