Lou Brissie  may have been one of the most improbable pitchers of all time.
Brissie's life and career in sports changed on Dec. 7, 1944. On that day, while serving in Italy with the 88th Infantry Division, Brissie was hit by artillery fire. The shell shattered his left shinbone into more than 30 pieces. He also broke his left ankle and right foot.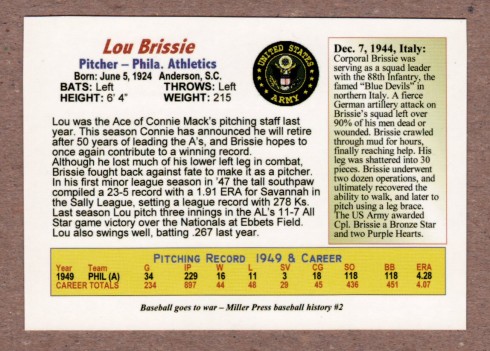 (click on image to view larger)
The doctors wanted to amputate Brissie's leg, but he somehow persuaded them to send him to an evacuation hospital.  Brissie overcame that injury and near loss of his leg to begin his career in major league baseball with the Philadelphia Athletics.
The lefthander made his Major League debut in 1947, after finishing 23-5 and 1.91 with Savannah in the South Atlantic League.  Two years later he was named to the AL All-Star team and had become the ace of the Athletics pitching staff, with a 16-11 record.
This card was issued by Miller Press