Until I saw this card, I always thought Bart was some kind of successful quarterback at Alabama.  I never even knew they had a 1-10 season, let alone that it was presided over by one of the all-time quarterbacks.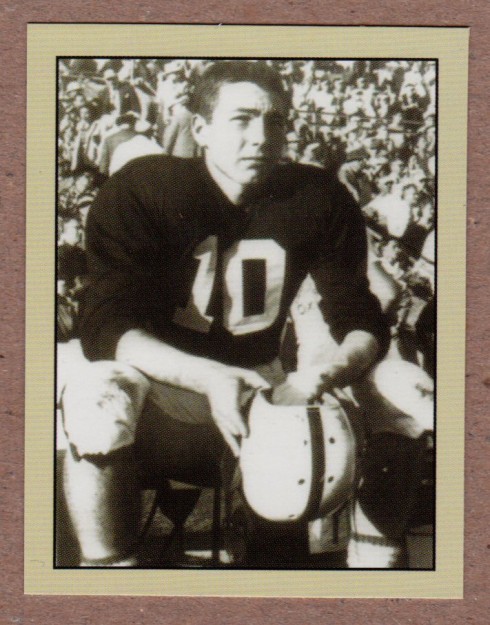 And he threw 1 TD and 9 interceptions as a senor.  Horrific stats.  It's truly a miracle he was even drafted or made the team.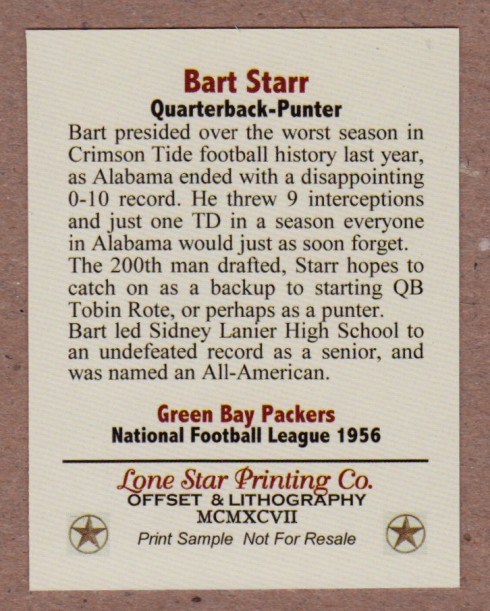 Bart Starr went on to lead the most enduring sports dynasty of that era.
You can listen to a great song about Bart Starr:
BART STARR (Tex Freebird)  Lyrics:
My father wasted time, my mother tasted wine
My grandpa was a preacher man, he walked that Baptist line
We worked that farm from day to day and never got a break
The bills took every dollar that all of us could make
But every Friday night in the winter and the fall
The folks came down to see the game and watch me throw that ball
I started off a kicker, pine cones was the balls
I kicked em over the pump house and bounced em off the walls
It's shameful to admit it, but I joined the football crew
Just to get out of some chores at home and meet a girl or two
And every Friday night in the winter and the fall
The folks came down to see the game and watch me throw that ball
Montgomery Alabama back in 19 froze to death
That Crimson Tide come calling and off to school I went
The first man in my family to wear that cap and gown
Then off I went to the frozen north and Green Bay was the town
But my biggest thrill was Friday night in the winter and the fall
When the folks came down to see the game and watch me throw that ball
Lombardi was the general of the army of the north
He led that Packer team for more than we was worth
The folks up there were friendly and they took me as their own
And eventually I realized that I had found my home..
But I remembered Friday nights in the winter and the fall
When the folks came down to see the game and watch me throw that ball
Well quarterbacks have come and gone, I can't say I was the best
My team mates were my heroes, the key to my success
I've had the bitter and the sweet I've had my ups and downs,
But I know where I have come from, and I know where I am bound
To a place where every Friday night in the winter and the fall
The folks come down to see the game and watch me throw that ball
Just watch me throw that ball…
This card was issued by Lone Star Printing