It was Decoration Day (we now call it Memorial Day) in 1933.  A game was scheduled to entertain the convicts at the Kansas State Prison at Lansing, Kansas.  The American Legion team from Leavenworth was playing against a team from Topeka.  Murry Dickson was on the mound for the American Legion team, and things were not going well.  It was the sixth inning, and Dickson's team was ahead 1-0.  But the bases were loaded, nobody out, and the count 3 balls and no strikes.
Suddenly, there was a commotion in the stands.  A group of  convicts, led by convicted killer Wilbur Underhill, had taken the warden hostage at gunpoint.  The prisoners, armed with guns smuggled in by gangster friends on the outside, made good their escape in the warden's personal car.  Prison guards with tommy guns quickly ended the game and escorted the players to safety.  17 year-old Murry Dickson was pleased to survive unhurt and was credited with pitching a shutout.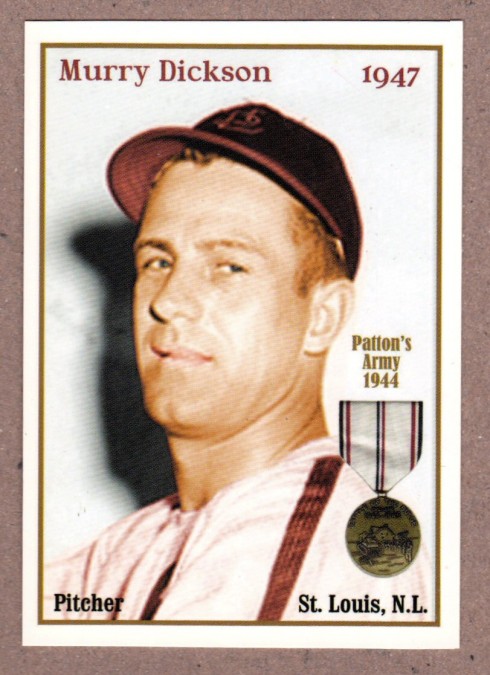 (click on images to view larger)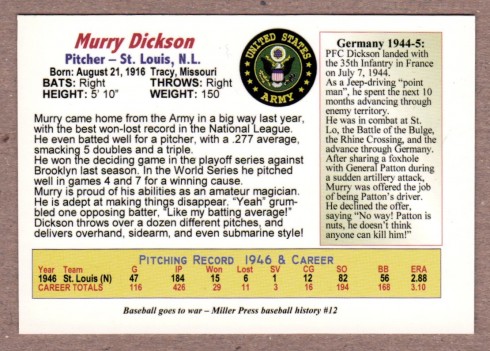 During WW2, Murry served with the US Army under General Patton.  He was well-liked by his fellow soldiers.  On Thanksgiving Day, 1944, his patrol was close to the German lines and facing a holiday dinner of K-rations. There were some chickens in the woods running loose, left behind by fleeing civilians. Dickson unlimbered his slingshot and quickly brought down several chickens for a holiday feast.
A crafty hurler, Murry was also known for his batting skills. He was a good .300 hitter in the minors, and a steady .250 hitter in the majors.  In '39 he was sent to Houston in the Texas League. In each of his first two starts, he hit a home run, and was nicknamed "Home Run Dickson" by the Houston fans.
This card was issued by Miller Press