Walter reported to the Tacoma Tigers of the brand new Northwest League to start his baseball career only days after the (April 18, 1906) San Francisco earthquake – the greatest natural disaster in US history.  After the disaster, the rival Pacific Coast League looked like it was going to shut down, since several teams affected by the quake had suspended operations.  Johnson appeared only once for Tacoma, in an exhibition game to raise funds for earthquake relief.  Believing the Pacific Coast League would fold, Tacoma manager Mike Lynch expected to pick up some experienced PCL players for his team – so he fired Johnson, telling him that he should give up on pitching and try becoming an outfielder.  Crushed, Walter went out to Idaho where he found work installing telephone wires and pitching part-time for the Weiser team.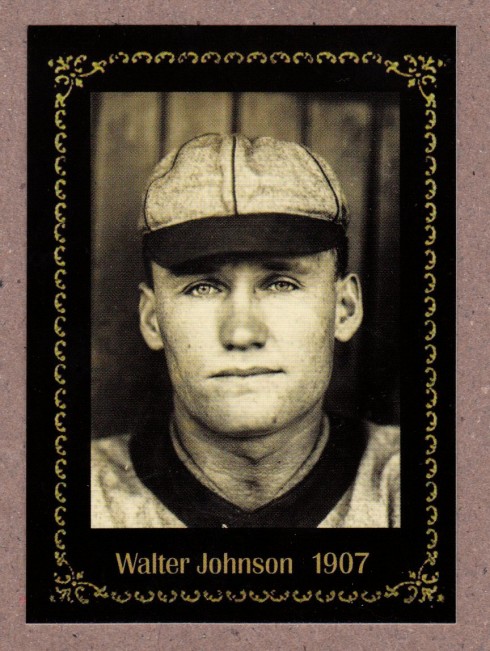 (click on images to view larger)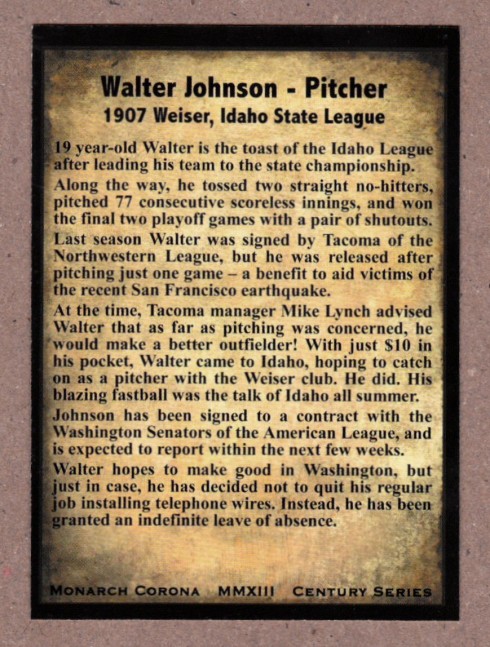 It turns out Mike Lynch was as wrong as one can ever be.  Walter was a sensation in Idaho.  While Johnson was pitching for Weiser, one local wrote this letter to Joe Cantillon, Washington Senators manager:
"You better come out here and get this pitcher. He throws a ball so fast nobody can see it and he strikes out everybody. His control is so good that the catcher just holds up his glove and shuts his eyes, then picks the ball, which comes to him looking like a little white bullet, out of the pocket. He's a big, 19-year-old fellow like I told you before, and if you don't hurry up someone will sign him and he will be the best pitcher that ever lived. He throws faster than Addie Joss or Amos Rusie ever did, and his control is better than Christy Mathewson's. He knows where he's throwing because if he didn't there would be dead bodies strewn all over Idaho."
The Senators finally sent a scout and signed Walter, and he became the greatest Senator pitcher in history.  The Washington Senators would no longer ignore reports from the potato state.  Five decades later, more fan reports from Idaho would launch the career of the greatest Senator slugger – Harmon Killebrew.
This card was issued by Monarch Corona