Former pool hustler Bo Belinsky pitched California's first major league no-hitter in 1962. He dated Los Angeles's most beautiful women. Then he succumbed to alcoholism. By the time he found Jesus, he had no one left to hustle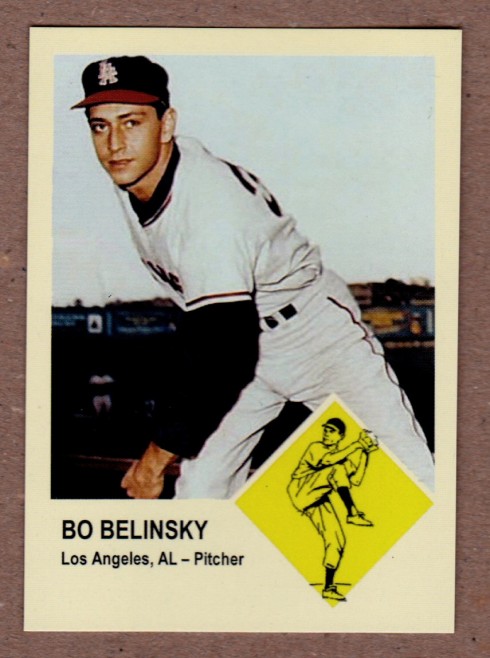 Even before Belinsky arrived at the Angels' 1962 spring training camp in Palm Springs, he was already famous. He had done what in those days was unthinkable for a rookie—held out for more money. He was insulted by the Angels' $6,000 offer. Anything under $8,500, he said, and he would stay home hustling pool in Trenton, New Jersey. After the club agreed to renegotiate his deal at midseason, he accepted the $6,000, but his labor action had made big news. When he reached the team's Desert Inn headquarters, he was whisked to the swimming pool, where reporters had gathered for a press conference. Turned out in dark sunglasses, cashmere sports jacket, yellow sports shirt, tight pants and suede shoes, Bo dazzled this hardened bunch.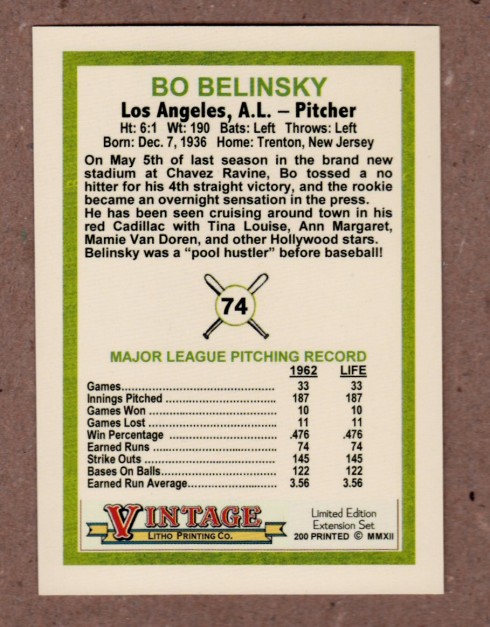 By age 10 Bo had smoked his first cigarette, by 12 he had lost his virginity and by 14 — thanks to evenings spent at Joe Russo's Pool Hall — he was an accomplished pool shark.  As he would later proclaim, "You gotta remember the laws of hustling. You never hustle anybody. They hustle themselves. You never try to snow a snowman."
Baseball was never as important to Belinsky as partying was.  He was sent to the minors several times to play for the Hawaii Islanders, and he loved it.  He met and married a Playboy Playmate there.  Honolulu was just one big party for Bo, and he didn't mind the demotion.  How do you help a guy who actually wants to pitch in the minors?
In the 70s, after his last chance (with the Reds in 1970) fizzled, Bo became a drug-using hippie biker, and then spent several stints in rehab.  He married twice more, tried to kill himself at least once, then finally found salvation at Trinity Life Church in Las Vegas.  He died in Las Vegas in 2001 of a heart attack.
This card was issued by Monarch Corona