During the last half of August, 1910, the Pacific Coast League was in the midst of a tough pennant race, with the Portland Beavers and San Francisco Seals battling it out.  The Beavers had the arms: Vean Gregg (31-18  1.53); Gene Krapp (29-16  1.28) and Bill Steen (27-17  1.78) were the mainstays.  San Francisco needed pitching more than anything, and one day a young man applied for the job.  He insisted that his identity be kept secret, and called himself "Fred Mitchell" (His real name was Frederick Mitchell Walker). He was quietly signed on as a pitcher.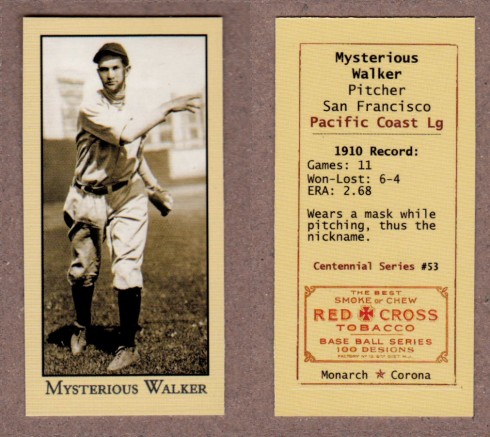 When the new pitcher started winning games, the press got curious about him. Who was he, and where did he come from? Neither Walker nor the Seals management would give out any information.  The press clamored for information when Walker pitched and won complete games in both ends of a doubleheader.  But Walker wouldn't sit for an interview, and refused to allow his photograph to be taken.
The other members of the team didn't like him much.  He never socialized or fraternized with his teammates, and acted like a prima donna, like he was so much better than them.  When photographers set up on the sidelines, he took to wearing a mask.  Seals fans were enthralled by their new pitcher, and the ballpark filled up whenever he pitched.
After six weeks of speculation, the truth finally came out.  Walker was mostly known as a football player and coach, and had just finished leading the University of Mississippi to the Southern collegiate championship that spring. He had been a college football and baseball star at the University of Chicago.  Walker had played semi-pro baseball during the summer, and made a name for himself around Chicago as a pitcher. In the spring of 1910, the Cincinnati Reds offered a contract, and he joined their bullpen. He rode the bench for a few weeks, got into just one game, and was let go.  The Giants quickly picked him up, and he went to New York, where manager John McGraw assigned him his roommate: Bugs Raymond, the most notorious drunken fool in the history of pro baseball.
Before Walker ever got a chance to pitch for the Giants, there was a drinking bout and a violent altercation at the hotel room where Walker and Raymond were staying.  A young chambermaid at the hotel claimed Walker had assaulted her. When she screamed for help, the elevator man came running, and was severely beaten up by Walker, who fled the scene.
A warrant was issued for the assaults, but Walker had "mysteriously" disappeared.
The sensational story made headlines all across the country.
When Seals fans found out their hero was actually a fugitive from justice and a villain, they weren't as impressed by him, and besides, he wasn't pitching so good lately. He was released by the team in the final week of the season.  The New York charges were eventually dropped.
Walker was a great athlete in any sport he tried his hand at. He went on to pitch again in the major leagues, but never with any great success.  During the winter of 1912-13 he played professional basketball with Pittsburgh.  He earned a spot in the starting rotation with the Pittsburgh Rebels of the ill-fated Federal League in 1914, but had a poor season with an awful team (4-16  4.31).
After bouncing around the minors for a couple more seasons, Walker became an itinerant collegiate sports coach.  He coached baseball, football, and basketball for almost 3 decades.  He served as head coach in one or more sports at Utah State, University of Mississippi, Oregon State, Carnegie Tech, Washington & Jefferson College, Williams College, Dartmouth, Michigan State, DePauw, Loyola, University of Texas, and Wheaton College, among others.
Walker retired from coaching in 1940, and became successful as a stockbroker in Chicago.
This card was issued by Monarch Corona