Here is Orlando Cepeda in his final Major League uniform, at Kansas City in '74.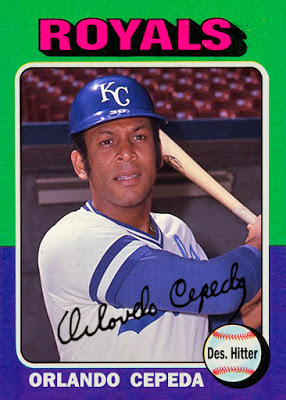 He was released by the Red Sox in April, and didn't play for the Royals until August, spending most of the summer playing for the Yucatan Leones in Mexico.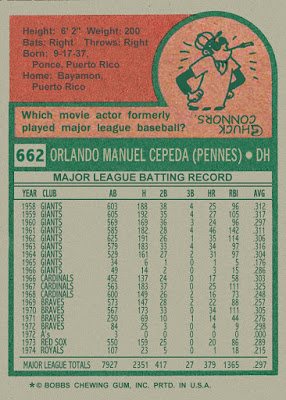 Instead of playing baseball in '75, Cepeda pursued his latest hobby: Marijuana.
In December 1975 he was arrested for taking delivery of 170 pounds of marijuana. Although he admitted to being a marijuana user, he claimed that he was expecting only a small amount for himself, and that he was not a dealer. Puerto Rico had made Cepeda a hero after the tragic death of Roberto Clemente three years earlier, but his arrest made him a pariah on the island. He and his family received death threats. He lost all of his money on his legal case, which caused him to miss child-support payments and led to more legal trouble. He finally stood trial in 1978, was found guilty, and was sentenced to five years in prison. He served ten months in a minimum-security facility in Florida.
In the years afterwards, Cepeda has turned things around and lived an exemplary life.  He was elected to the Hall Of Fame in 1999.
This card was created and issued by Bob Lemke