Bill Thomas won more games in the minor leagues than any other pitcher in history.  He started his professional career in 1926 with the Hanover Raiders of the Blue Ridge League, finishing the season with a 15-12 record.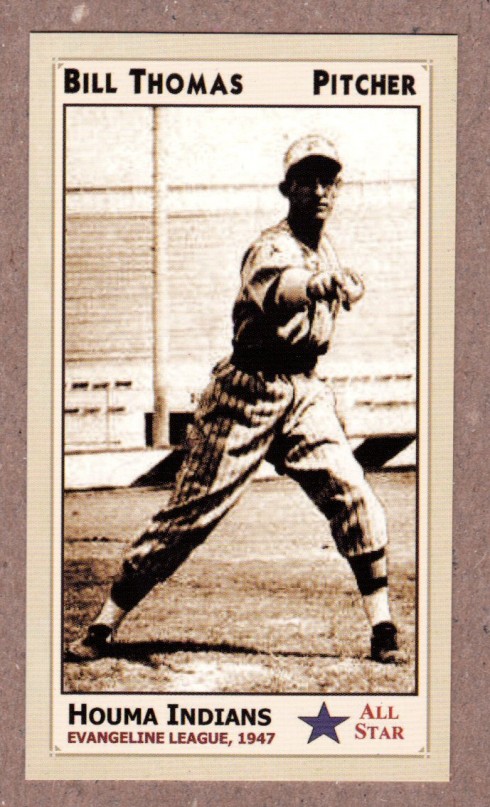 For the next 20 years, Bill pitched just one step below the majors, playing mostly in the Pacific Coast League, American Association, and Southern Association.  During the war years from '41-45, Bill was a valuable commodity, as so many of the younger players were serving in the military. In '46, when they were coming home, Bill found his services weren't needed in the high minors, and he scrambled to find a team willing to let an "old man" pitch – even though he was already the winningest pitcher in minor league history.  So it was that in his 21st season, Bill Thomas landed at Houma, Louisiana in the Evangeline League.  Even though he was 41 years old, Thomas was to become the premiere pitcher in the circuit, winning 35 games during the regular season, then compiling a 5-0 record in the playoffs.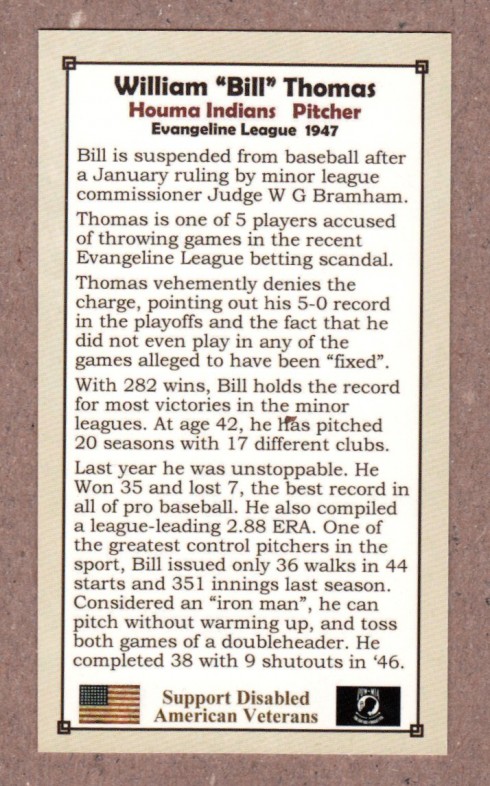 Houma won the pennant and the playoffs, but after the season allegations were made that players had accepted bribes from gamblers to throw games during the playoffs. One of those mentioned was Bill Thomas.  Thomas testified that another player had introduced him to a bookmaker, but that he had told the man to get lost immediately.  He was adamant that he had nothing to do with throwing games, correctly pointing out his 5-0 record during the playoffs.  Although there was scant evidence of any wrongdoing, Minor League Commissioner Judge W. G. Bramham summarily placed all five players named (including Thomas) on the ineligible list, apparently ending their baseball careers.
After his suspension, Bill became a roustabout at Texaco's Houma oil refinery, and pitched in semi-pro industrial baseball.  Given his age, he could hope to return only to the lower minors, but he continued his efforts to clear his name and at length succeeded. Thomas was restored to eligibility by George M. Trautman, Bramham's successor, on August 22, 1949, and was allowed immediately to return to Houma, which was in a hot pennant race. Thomas helped win the 1949 Evangeline League pennant with three victories in the last 12 games of that season. With Houma and Lafayette in 1950 he was 23-8 at the age of 45. He continued for two seasons, bringing his long career to a close at age 47 with Owensboro in the Kitty League in 1952 with a lifetime record of 383 victories.
This card was created and issued by Dave Stewart