It was 1964 in San Francisco, and a softball game was about to get underway at the Treasure Island Navy base.  The Navy Wives Club was playing against a team of Navy officers. The women were expected to lose, but they had sneaked a "ringer" into the lineup – a girl who was not a Navy wife – in fact, she wasn't even married.  That girl was Joan Weston. She came to bat six times during the game, and hit a home run each time, six for six. She also pitched, and held the officers to 5 runs, as the Navy Wives won 9-6.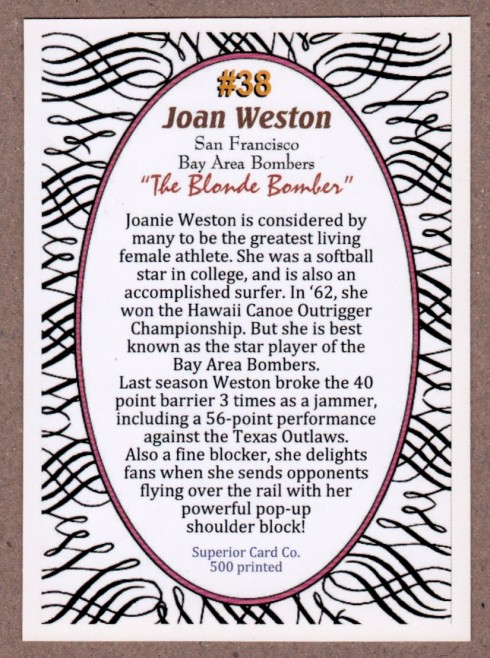 Whether it was softball, surfing, sailing, or skating, Joan Weston was a tremendous athlete who could compete with anyone.  She became famous during the roller derby craze of the 60s and 70s, but professional sailors knew her as the Hawaiian Outrigger champion. Surfers knew her as probably the best female surfer on the west coast. Her softball feats were legendary = she played for Mount St. Mary's College in Los Angeles, where she once hit 8 home runs in a game.
Joan was the highest paid female athlete in the world during the 1960s.
This card was created and issued by Superior Card Co.